Computing / AI / Cyber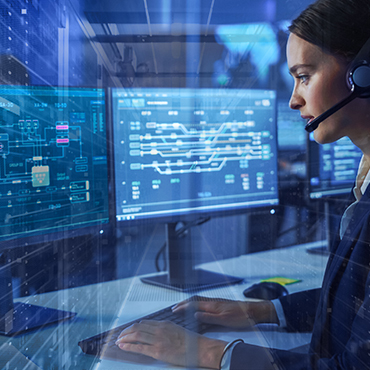 The U.S. must constantly ensure enduring advantage for our nation and its allies across a broad range of information technologies through the advancement of core technical foundations as well as the design of novel application concepts based on these foundations. These sessions will explore the ways that DARPA is overcoming technical challenges in bringing these technologies to the mission, addressing topics such as artificial intelligence, network security, cyber operations, human-system interaction, and assured autonomy.
Presented at:
All times are presented in the host university's local time zone.
Tuesday, August 30, 2022
Scalable Human Machine Ecosystems
(1:45pm - 2:30pm)
AI: More Than Just a Force Multiplier
(4:40pm - 4:45pm)
Engineering Secure Information Systems
(4:45pm - 5:30pm)
Wednesday, August 31, 2022
Prediction: Innovations in Predictive Analytics
Adaptation: Environments on Other Planets & Disruptions in Earth Systems
Resilience: Building Workforce and Operations Resilience
(9:25am - 10:45am)
Tuesday, September 13, 2022
Winning at Cyber
(1:30pm - 1:35pm)
Trustworthy AI for Adversarial Environments
(1:35pm - 2:20pm)
Semantic Forensics (SemaFor)
(2:20pm - 2:30pm)
Domain-Specific System on Chip (DSSoC)
(3:50pm - 4:00pm)
Wednesday, September 14, 2022
Systems of Autonomy
(11:15am - 12:00pm)
Tuesday, October 4, 2022
Winning at Cyber
(3:30pm - 3:35pm)
Trustworthy AI for Adversarial Environments
(3:35pm - 4:20pm)
Assured Autonomy
(4:20pm - 4:30pm)
Wednesday, October 5, 2022
Systems of Autonomy
(9:10am - 9:55am)
Pushing Boundaries in Microelectronics and AI
(10:30am - 11:15am)
Scalability in the Extreme Edge
(1:40pm - 1:45pm)
Pushing the Limits of Technology
(1:45pm - 2:30pm)
Tuesday, October 25, 2022
Domain-Specific System on Chip (DSSoC)
(3:20pm - 3:30pm)
Quantum Computing
(4:50pm - 4:55pm)
Wednesday, October 26, 2022
Cognitive Electronic Warfare
(11:40am - 11:45am)
Cybercriminals and Nation-State Adversaries: An Unholy Alliance with National Security Consequences
(11:45am - 12:30pm)
Semantic Forensics (SemaFor)
(1:30pm - 1:40pm)
Scalable Human Machine Ecosystems
(4:15pm - 5:00pm)
Wednesday, November 16, 2022
Cyber Operations: The Stakes are Only Getting Higher
(1:30pm - 2:15pm)
Internet Freedom and Privacy
(2:45pm - 3:30pm)
Wednesday, December 14, 2022
Software Development and Assurance Pipeline
(9:55am - 10:40am)
Quantum Computing
(11:55am - 12:00pm)
Pushing the Limits of Technology
(1:15pm - 2:00pm)
Using AI to Locate Critical Mineral Resources
(4:15pm - 4:25pm)